PURE ALPINE COASTER
A 1000 metre ride for the whole family in Praloup
With a 1000+ m ride, Praloops is the new place to be for thrill seekers of all ages. The little ones will enjoy the sheer speed of the ride while the bigger ones will reconnect with their inner child on this giant toboggan run. The double steel rail system accommodates two-seater sleds and has a dedicated lift to offer you maximum comfort. Only 10 minutes away from Barcelonnette, Praloops is the only summer toboggan run in the Ubaye valley.
Tickets available on location only and booking ahead is not possible.
Accessible to everyone from 3 years old. From 3 to 8 years old, be accompanied by a person over 12 years old and measuring at least 1m35.
Installation accessible to people with reduced mobility, subject to access to the front of the track (please contact us ahead).
Your thrilling ride includes

1143 m
total run

115 m
elevation gain

40 km/h
max speed
10 BENDS INCLUDING 2 JUMPS   /   1 HELIX   /   5 FLIP FLAP CHICANES  /   6 WAVES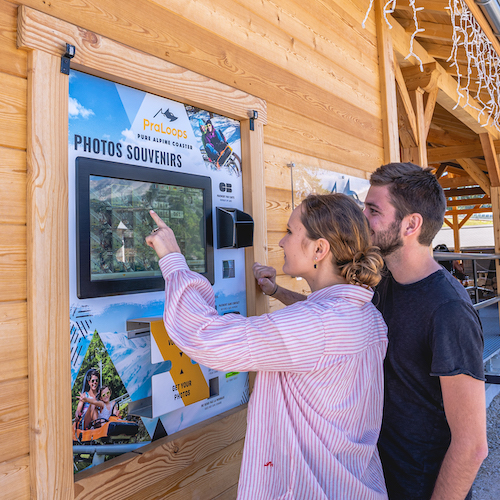 Souvenir snap!
During your ride don't forget to smile for the camera. Don't worry, it's not a speed trap, just a way for you to get your picture at the end of your ride
Winter & summer season
Open on weekends in the off season and on bank holidays.
Opening days and hours : see the schedule
1 ride
5,50€ / child
7,50€ / adult
6 rides
30€ / child
40€ / adult
10 rides
45€ / child
65€ / adult
Child rates apply from 3 to 12 years old. Tickets available on location only and booking ahead is not possible.
No refunds or exchanges on tickets. For group rates please contact us.
Find us in Pra Loup, right at the foot of the slopes, between the "stade" and "Loups" run.
For Praloup coming from Gap, follow signs for Barcelonnette and then Pra-Loup, 04400 Uvernet-Fours